About Hydrogen Safety Fundamentals for Industry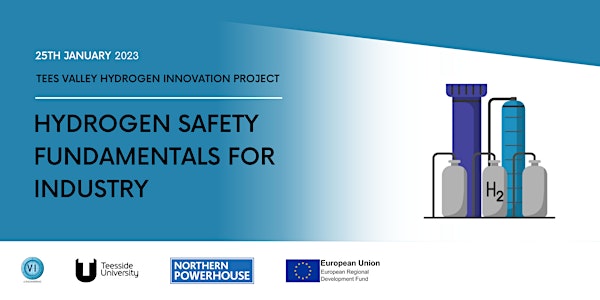 An event to outline the process safety fundamentals when integrating hydrogen to existing industrial and manufacturing facilities.
Is your business investigating hydrogen as an alternative fuel or process input? As a major accident hazard substance, Process Safety is critical in establishing safe systems of operation and control.
This full day face to face event for SMEs in the Tees Valley will cover the fundamentals of process safety management in the context of addition of a new major accident hazard substance and specifically on the hazards, risks and mitigation techniques that are applied when operating with Hydrogen. This event is fully funded (eligibility criteria applies*).
Event Date – Wednesday 25th January 2023
Topics to be discussed include:
• Regulatory Compliance and Management of the use of Hydrogen Through Consideration of Safety and Risk Properties
• Current Standards, and Relevant Good Practice Domestic and Commercial Applications for Hydrogen
• Properties of Hydrogen, Infrastructure Requirements, and Implications on Existing Plant
• Business and Skills Requirements to Ensure Compliance
There will be speakers from industry to give their perspective. The event is being delivered in partnership with 6 Engineering. Refreshments and lunch will be provided for all delegates.
Businesses will have the opportunity to network, and the project team will be available to offer guidance/advice on any questions/issues.
If your business currently uses natural gas for example for heating and may need to switch to hydrogen in the future, then this event will be relevant to you to help you plan.
Location:  The Curve Southfield Road Middlesbrough TS1 3JN
*Tees Valley Hydrogen Project is part-funded from the European Regional Development Fund and is available to SMEs in the Tees Valley employing fewer than 250 staff and with an annual turnover no greater than €50m per annum.
For further queries, please do not hesitate to contact:
Dr. Ruben Pinedo-Cuenca
R.pinedo-cuenca@tees.ac.uk
07815703638
Or
Simon Bradshaw
s.p.bradshaw@tees.ac.uk
07971391728
Explore how the ERDF Tees Valley Hydrogen Innovation Project could support your business: https://www.tees.ac.uk/sections/business/funded_support/bhe.cfm
This project is part-funded by the European Regional Development Fund (ERDF) as part of the European Structural and Investment Funds Growth Programme 2014-2020. Established by the European Union, ERDF funds help local areas stimulate their economic development by investing in projects which will support innovation, businesses, create jobs and local community regenerations. For more information visit https://www.gov.uk/european-growth-funding.