About +Venture Builder – How To Grow Through Innovation & Internationalisation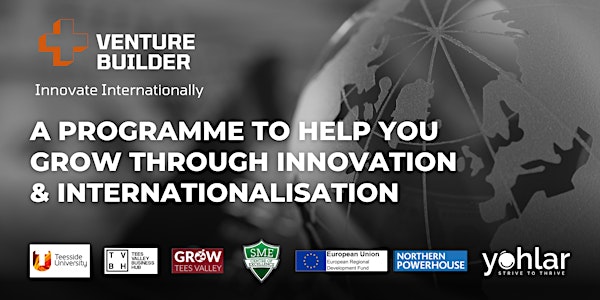 +Venture Builder is a brand new programme delivered by the Tees Valley Business Hub (TVBH) with the SME Centre of Excellence on behalf of Grow Tees Valley. Accessing new or untested markets can be daunting, therefore this programme is designed to equip Tees Valley businesses with the skills, knowledge and confidence to grow internationally.
The programme is 100% funded for each business taking part, with wrap around support through the Tees Valley Business Hub. Participants will gain insight into how to access international markets, learn about our innovation toolset and master the skillset and techniques to grow their business in new markets. Our world-class team of experts will support them through activities that holistically and ethically support the key components of their business: the idea, the product, the market, the team, the money, and how these fit into the lifecycle of SMEs wishing to scale and grow.
Breakfast launch event details
31st January 2023
0830- 0915 Registration and Breakfast
0915-0930 Grow Tees Valley Introduction
0930-1000 Programme overview including case study
1000-1015 Questions and sign-up process
1030 Close
Each participant will receive support that is carefully tailored to their own personal and their business' needs so that they are better equipped for success. There's a community for support, with world class leaders and and a world-leading toolkit, to rely on.
The +Venture Builder Programme will take place over the course of four months, between February and May 2023. Participants will take part in specialised virtual and physical workshops to ensure their business is fit to focus internationally. They will also have the opportunity to arrange one-to-one meetings with relevant experts for personalised advice and support in the area they need it most and based on an in-depth business diagnostic carried out at the start of the programme.
Location: Teesside International Airport Teesside International Airport Darlington DL2 1LU